Forestry Equipment Pricing Shows Potential Market Shift At 2021 Summer Auction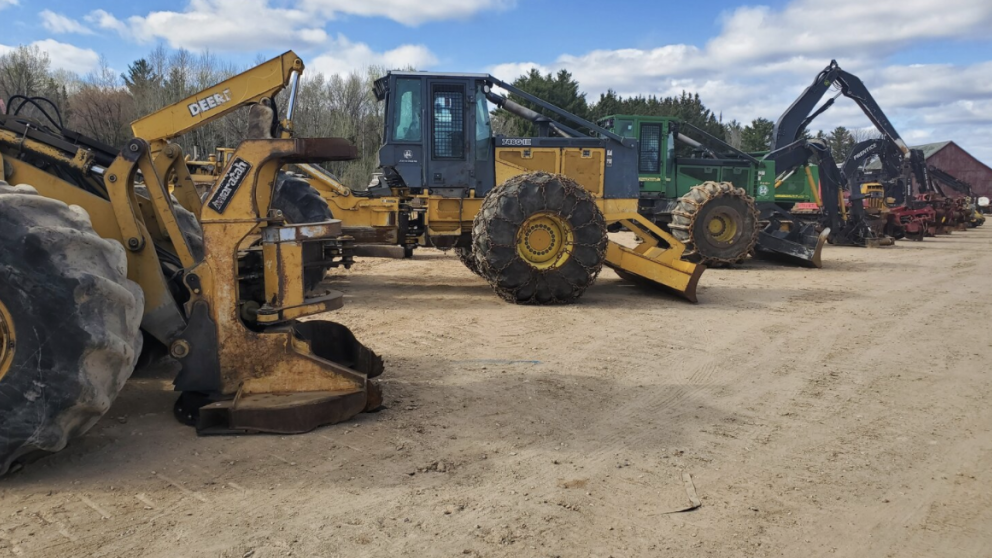 "The variety of products that have been at the Spring & Summer 2021 auctions has been very impressive," Said Jonathan D of Irma. Bidders at the 3-Day Summer auction lined up for their chance to try and score a deal on everything from skid steer attachments to construction and forestry equipment. While there were some deals to be found, shortages of equipment across the nation continued to push prices beyond seller expectations on most items. While some items were sold at 15%-20% higher than the national average, nothing was as astonishing as the high bids placed on forestry equipment.
Anybody that is in the forestry market knows that 2020-2021 has been a rough couple of years for Wisconsin loggers. The closing of the Verso Paper Mill in Wisconsin Rapids and supply chain issues caused by the pandemic have caused a whirlwind of problems. Logistical problems and retaliatory tariffs have also caused the logging industry to suffer nationwide. However, the market seems to be turning around as mills are getting back to full operation post-pandemic. In addition to production continuing at the mills, Mid-July also brought the announcement of $200 million in pandemic relief funds that Wisconsin loggers will have access to. These funds could affect around 1,500 logging companies in Wisconsin, according to an article by the Wisconsin Examiner. This rebuilt confidence showed as a resurgence in forestry equipment pricing at the Summer Heavy Equipment Auction.
Forestry equipment shortages and higher demand created a limited selection of equipment at the sale, but this is typical for a summer event. According to a Forestry Equipment Market Forecast, there will be substantial growth in the market and it seemed to show in the pricing at the auction. A 2008 Deere 1270D Harvester with 11,000 hours brought an exceptional bid of $53,000, about 35% higher than the national average for similar machines. A Fabtek 346B Forwarder with over 15,000 hours received a winning bid of $35,500. Forestry tracks were among other items to sell that day. Tracks for 600 rubber sold for up to $4500 and tracks for 700 rubber sold for up to $5600.
Outside of Forestry equipment, prices on other equipment, trucks, and trailers followed Spring trends with bids coming in 25-30% higher than the national average. A 2015 Western Star 4700 Quad Dump Truck was sold for an impressive bid of $116,000. Dozers continued to demand high prices; the hammer dropped on a Deere 700J Dozer for $56,000! The final bid on the 2021 Felling Lowboy was $86,000 and the 2021 Rampart DG55 Lowboy went for $69,000. Graders also sold high; a Caterpillar 140G with over 10,000 hours found a new home in Texas with a $40,000 bid. The EZ-Screen 1200XLS brought $35,000, a Caterpillar 3306 Generator went for $31,000, and a 2013 Chevrolet 2500 Duramax Pickup ended at $22,000. There were several more highlights at the event, and you can see them all on our Photo Highlights Page or check out Past Auctions on our Hibid Portal Page.
ISA's next event, The 2021 Fall Annual Heavy Equipment Auction, is set to be a 5-day event, with live-onsite & online bidding for heavy equipment, trucks, trailers & more on October 1st & 2nd! The online-only portion of the sale featuring skid steer attachments, tools and other great items will be October 4th-6th! Several items have already arrived and if you have items you would like to consign to the event, don't wait-- Call ISA now! Many items are now in high demand and the sooner you bring your items, the sooner we can begin to expose them to people and businesses that need equipment, regardless of the cost. Give us a call or you can easily consign right on our website. Remember, when you sell, don't just sell at auction, sell with Integrity.
---